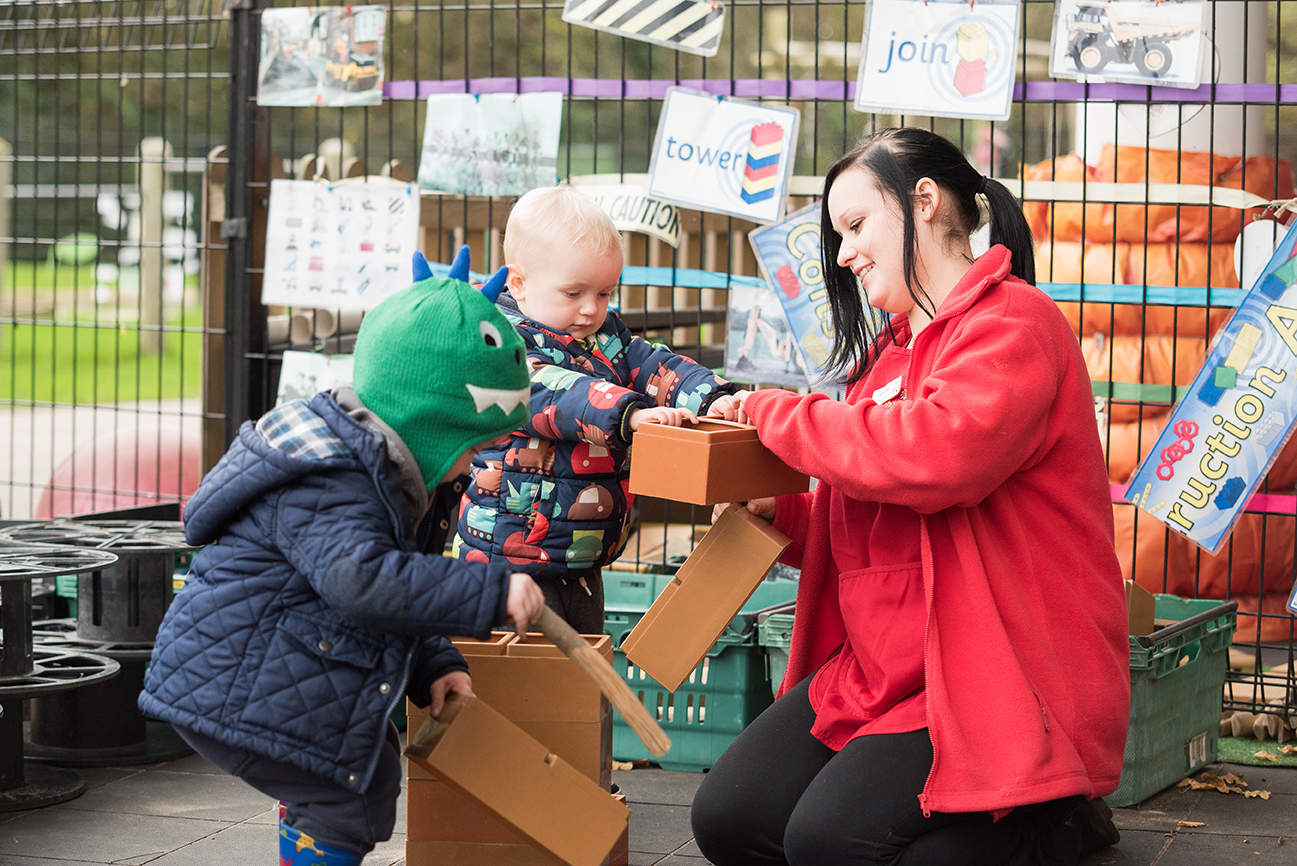 12 Sep

Outdoor Play for Under 2's
Outdoor Play for Under 2's
At Daisy Chain, we know it is important for all children to access outdoor play everyday. The outdoors offer different learning experiences and gives little ones new challenges, the opportunity to experience large play and breathe fresh air.
Daisy Chain ensures that just as much learning takes place outdoors as indoors and we understand that our outdoor environment helps children learn the vital skills of risk taking. Many researchers suggest that some children learn better outside and this is often the case with boys.
Accessing an outdoor learning environment can be challenging with babies. Too often young children are taken out in pushchairs which is not very exciting or stimulating for a child. Below are some of the ways we make the most of the great outdoors for children under 2, which you could do at home.
1. Explore natural materials
We offer babies opportunities to experience natural materials. Babies love to explore with their hands, feet and mouths. Why not fill a shallow tray with sand or compost and add materials from outdoors. Good items can include large chunks of bark or off cuts of wood, large pebbles, leaves, pine cones, conkers, shells (all must be checked for safety first, not too small to swallow). Create a 'Treasure Basket' with items such as metal & wooden spoons, scrubbing brushes, pots and pans etc. offering lots of different textures to feel and materials which make different sound to make and hear.
2. Ball Pool
A small blow-up paddling pool and a bag of play balls can be purchased fairly cheaply. These are a good way to provide a stimulating environment for a baby that's also suitable to be placed in an outdoor environment. If baby needs some support, cushions can be added for extra comfort and support. An alternative to this is to use a fitted sheet turned upside down, pull it out and weigh down the corners.
3. Pop up Tents
These are a lovely way for babies to see enjoy outdoor play but have somewhere safe to explore. We often add cushions and blankets to keep the tent comfortable, by keeping the doors you also allow baby to view the environment and observe nature.
4. Tunnels
Tunnels are another good way of providing physical development along with enhancing a baby's exploration skills. If you can link tunnels together or add additional items you can create a mini assault course. Items that could be added include, crates, cardboard boxes, planks, tyres etc. Lengths of fabric can make this more stimulating but also give baby something to crawl under.
5. Teddy Bears Picnic
Taking babies outside for meals is a fun alternative. Daisy Chain like to offer picnic teas and make this fun by inviting Teddy Bears along.
Outdoor Play – Whatever the weather…
To further enhance outdoor play with babies, we have several all-in-one rain suits which are ideal for babies who are still crawling or may tumble onto their bottoms. We also encourage outdoor play in different weather conditions (within reason) to add to the outdoor learning experiences for children. Foil blankets make a lovely sound when over our heads in tinkling light rain and wind charms are a great point of interest in any garden.
For more information about Outdoor Play and how we include it into your child's daily activities, speak to one of you Senior Nursery Nurses or Nursery Manager.
Written by Helen Stoner, Training Manager
Daisy Chain Childcare